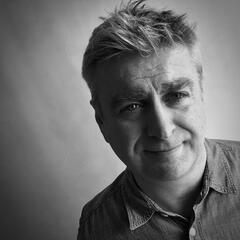 Greig Stevens
Qualified TEFL teacher | 🇬🇧 British accent | Online bespoke lessons
How I can help
If you're looking for a teacher to help you perfect your English, who will correct your mistakes, tell you why you're making these mistakes, and practice until you eliminate these mistakes forever — then I am the perfect teacher for you. Contact me for a free first lesson assessment to discuss your language needs.
About me
While working for The New York Times in Paris, I experienced the difficulties of learning a second language (French) and also the value of clearly spoken International English. So, I'm here to help. Educationally, I hold a Teaching English as a Foreign Language diploma and a Master of Arts degree (distinction).
How to book
To reserve a Zoom call lesson please complete the form below. Lessons last for 45-minutes and cost €25. Payment is made by PayPal 24-hours before the lesson. Please read my cancellation policy.
Cancellation policy
• If a lesson is cancelled with more than 24-hours notice, a full refund will be issued.
• If a lesson is cancelled with less than 24-hours notice, no refund will be given.
• If a student doesn't attend the lesson, no refund will be given.